Drossman Gastroenterology, PLLC
Douglas A Drossman, MD, former co-Director of the UNC Center for Functional GI and Motility Disorders is now seeing patients at Drossman Gastroenterology, PLLC located at the Chapel Hill Doctors Integrative Health Center at 5825 Fayetteville Road, Suite 201 in Durham NC 27713.
Drossman Gastroenterology, PLLC will maintain the same biopsychosocial patient centered care model that Dr. Drossman used while at UNC. The practice is located within a multidisciplinary health care center that can provide other health care services. He is joined by a physician's assistant (PA), Ms. Amy Rodriguez. The clinic is held on Tuesdays and Wednesdays. Most all laboratory and other diagnostic studies are available through the new health care facility.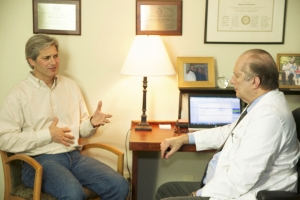 Payment to Drossman Gastroenterology is by cash, check or credit card at the time of the visit. Proper forms are provided if you choose to file for insurance reimbursement. Unfortunately, we are not able to accept Medicare. The physician fee is competitive with the combined physician and hospital fee charges now occurring at UNC Health Care.
Appointments for new patients
If you are coming to see Dr. Drossman for the first time, a referral from your primary care physician or gastroenterologist may be needed. You or your doctor should contact Drossman Gastroenterology, PLLC.  We will work with you to set up the appointment and provide information on local resources if you are coming from out of state.
Phone: (919) 246-5611
Fax (919) 914-0942
Appointments for former patients from UNC
If you are a former patient of Dr. Drossman from UNC, Ms. Jennifer Layton (919) 265-8516 will work with you on the transition from the UNC Health Care Practice to Drossman Gastroenterology PLLC. Please contact her to make these arrangements.
If you have additional questions about the practice please contact us.