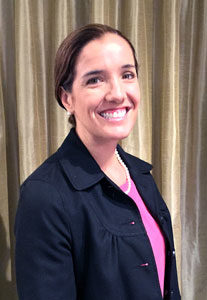 Amy Rodriguez PA-C has joined Drossman Gastroenterology in October 2016 and has already has become an integral part of the practice by enhancing its patient centered philosophy.  She participates in all clinic visits and coordinates medication prescriptions and pre-authorizations and communicates with patients through phone calls and messages to optimize their care in a timely fashion.
Amy graduated in May 2006 from the United States Military Academy at West Point where she was on the Black Knight Parachute Team.  Following graduation, she spent six years on active duty as a Paratrooper at Fort Bragg, North Carolina with two deployment tours to Iraq and one to Haiti as a Medical Service Corps officer.  She then decided to provide service in the healthcare field and attended the University of North Carolina at Chapel Hill for her PA school prerequisites and worked as a medical assistant at the Central Dermatology Center prior to attending Wake Forest Physician Assistant School, where she graduated in May 2016.  She and her graduate school partner were recognized for their research skills by receiving the Kitty Bowman Research Award.
We asked Amy to share a little more about herself in the following Q&A:
1. Tell us a little about your background. What have you done before coming to work with Dr Drossman? 
Amy: I graduated from the United States Military Academy at West Point in 2006 then served six years in the military as a Paratrooper. After three deployments, two to Iraq and one to Haiti, I left active duty to pursue PA school.  I fulfilled some prerequisite courses at UNC and worked as a medical assistant at Central Dermatology Center before going to Wake Forest PA school.
2. What inspired you to become a PA? And why gastroenterology? 
Amy: I knew I wanted to become a PA after working in the Army with other Physician Assistants. They were passionate about their profession, dedicated to patient care, and they inspired me to want to become a PA. I learned about Dr. Drossman's clinical practice and wanted to learn from his GI expertise and the biopsychosocial model.  My ultimate goal is pursue a career primary care and treating a variety of GI conditions is a significant component aspect of that field and I want to be well-versed to treat my future patients. 
3. What is it like working with Dr. Drossman and his patients?  What are some of the rewards and some of the challenges? 
Amy: Dr. Drossman applies the biopsychosocial model focusing on the "whole patient" approach. The rewards include seeing firsthand the patients improve and also see how therapeutic it is for them when their concerns are acknowledged and addressed. The challenge is that with chronic pain conditions, such as chronic abdominal pain, we focus on treating the symptoms and working toward improving the patient's overall quality of life. Getting patients to understand chronic conditions are not cured overnight or immediately can prove to be challenging at times.
4. What is different about how he conducts his practice? 
Amy: Dr. Drossman devotes his time to listen to and get to know his patients and acknowledge their concerns. He takes the time to discuss with each patient their condition and explain medical concepts and treatments available. He is a big proponent of working together with the patient as a team for the best outcomes.  
5. What inspires you to go to work everyday? 
Amy: Seeing our patients make significant improvement in their symptoms and quality of life is fulfilling and being a positive force in that journey . 
6. Share some of the things you enjoy doing in your free time? 
Amy: I enjoy working out, running with my dog, hiking and traveling with my boyfriend and spoiling my nieces
7. If you could offer some words of wisdom for GI patients, what would you tell them? 
Amy: The majority of GI conditions being treated are multi-faceted and chronic. We will work with patients to improve their symptoms and overall quality of life. Yes, there will be good days and bad days but if we can see improvement in the right direction, that is a success. If we never get to 100% cure, 80% improvement is not a failure.