Karen Salem's Story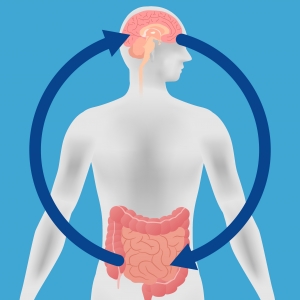 I wish more doctors understood the significance of Gut-Brain interaction, especially those in the field of gastroenterology. How can you study the digestive system and not take into account the two major organs that are hard wired with bi-directional communication?  The absence of this knowledge coupled with a dualistic model failed me as a patient and robbed me of ten very precious years of my life.
How it Started
In 2009, my normal, healthy and happy life took a drastic turn into a decade of endless testing, endless pain, and endless expenses with no answers and no hope. My GI symptoms were initially mild and probiotics seemed to do the trick. But add on sinus infections, bronchitis, repeated antibiotics, and unmanaged stress – my symptoms became severe.   I desperately wanted wellness – for myself and my family.  Local doctors could not explain my symptoms, and dozens of tests showed that everything was "normal."  I repeatedly echoed the sentiments of Johanna Ruddy: "I AM IN PAIN. WHAT'S WRONG WITH ME? WHY CAN'T SOMEONE HELP ME."  While I was never suicidal, I continually prayed, "Lord heal me, take me or sustain me."  I remember telling my husband, "I can't continue to live with this level of pain."  I was discouraged, hopeless and miserable!
Misdiagnoses
Repeated trips to three nationally recognized medical centers cost me thousands of dollars.  Typical GI tests were performed, and dietary restrictions were recommended. A team of doctors at Mayo Clinic "found nothing wrong." Weight loss of thirty pounds could not be explained.  One doctor told me to ignore my symptoms – like a pilot putting duct tape over the cock-pit controls.  They diagnosed me with "unintentional anorexia" and "health anxiety." I was humiliated and lost all respect for the medical community.  If only they assigned the correct diagnosis and understood dysregulation of the brain-gut pathway.
Quality of Life
For the next eight years, I floundered.  My pain was 24/7 – 365 – level 10! Looking back, I don't know how I survived. I faked my way through raising three children and being a loving wife. I resorted to mental distraction at work as a coping mechanism because I had no other choice. But then in 2017, God answered my prayers of desperation and led me to a doctor in Charleston, SC who had studied under Dr. Drossman as a GI Fellow, at UNC-Chapel Hill.  In a single visit, after a short series of questions, this doctor accurately identified my illness, and referred me to Drossman Care.
The Power of the Gut-Brain Axis and Patient-Provider Relationship
I, and my family, are forever indebted and grateful to Dr. Drossman and the Rome Foundation for the magnitude of research done in the field of DGBI's. Through the care and guidance of Dr. Drossman, I am thrilled to say, I HAVE MY LIFE BACK and I AM PAIN FREE.  Healing doesn't happen overnight and for me, it was a process. It was important for me to acknowledge that years of misdiagnosis would take time to unravel – and the severity of my symptoms would require multiple layers of treatment. My first visit with Dr. Drossman set the stage for success. His methods of communication set me at ease and conveyed a sense of care and concern.  He educated me with diagrams and even gave me several journal articles which I happily read. I trusted Dr. Drossman — perhaps the most critical step — because without trust, there is no viable treatment plan.  Time invested in the Patient Doctor Relationship yielded a huge ROI!  And Dr. Drossman's poop emoji pillow made me smile and definitely helped me let my guard down.
When I arrived at Drossman Care in 2017, I was stuck in a vicious cycle with no way out. An accurate diagnosis coupled with Rome Foundation Research paved the way for healing. My treatment included Pharmacology + CBT + Doctor's Care + Time.  Neuromodulators were necessary to regulate signals to the brain. Equally, if not more important, CBT helped me identify and change behaviors that were hurtful and an impedance to healing.  Calm the brain, calm the gut! I wasn't crazy, but my A-type, overachieving  personality needed a total OVERHAUL.  Today, my life is vastly improved, better balanced and even restful.  I am thankful that the biopsychosocial model not only saved my life, but gave me a much better quality of life to enjoy!
Related Links:
UNC GI Conference with Dr. Drossman: Getting Better