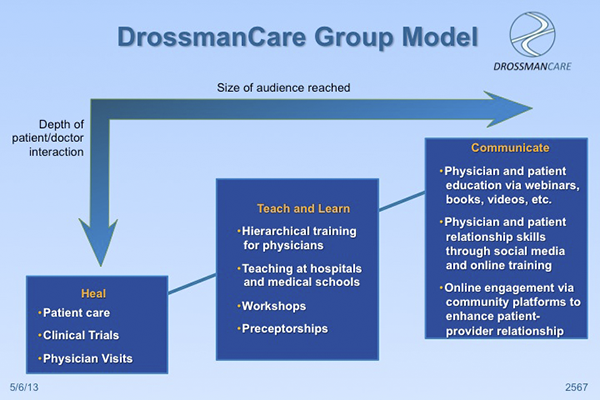 The Drossman Center for the Education and Practice of Biopsychosocial Care uses a three-pronged approach:
Heal:  Medical consultation practice
Teach & Learn:  Educating practitioners program
Communicate:  Online educational programs and closed virtual online programs
Products and Services Description
Heal (Medical consultation practice) — "Heal" refers to intensive hands on skills-training through actual engagement with patients at the Drossman Gastroenterology practice in Chapel Hill under the tutelage of Dr. Drossman, over a period of several days to several weeks. Dr. Drossman's internationally recognized clinical practice at the UNC Center for Functional GI and Motility Disorders focused on difficult-to-diagnose gastrointestinal disorders, applying biopsychosocial relationship-centered care.  He continues this model at his private practice, centrally located in Durham, (www.drossmangastroenterology.com).  This clinical practice will provide a basis for hands-on learning with visiting clinicians attending in order to develop advanced clinical practice skills.  The practice is a teaching component of the Center.  Clinicians and trainees interested in learning more about communication skills and the manage of patients with difficult GI problems can attend the practice in an observership or preceptorship as part of their training experience or for self-learning.  Visitors have included medical students, residents, fellows, and senior physicians in academics and clinical practice. Visits have ranged from several days to one or more years.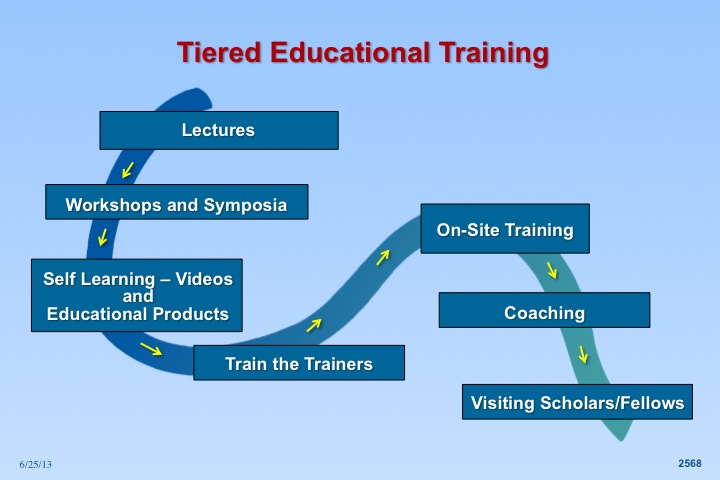 To schedule a visit as a patient or to attend the office practice as a clinician, please contact Jennifer at jennifer@drossmancenter.com
Teach & Learn (Practitioner education) — "Teach and Learn" refers to scaled training programs in which clinicians gain more in-depth training by attending lectures and participating in half or full day workshops, or programs lasting several days.  This program involves preceptorships in which groups that share common goals come to the DrossmanCare offices for programs tailored to their specific needs.  Teach and Learn also includes mentoring and coaching of clinicians off site.  DrossmanCare faculty members can provide counsel to clinicians who seek help on difficult patient–physician interactions.  This may even include a patient interview by the DrossmanCare faculty member at the clinician's practice.
For Information on courses or related programs, please register at www.drossmancare.com
Communication (Online education) —  "Communicate" is designed to reach the largest number of clinicians as well as patients eager to learn more about how to improve their own communication skills with their health care providers. This will involve online and digital programs including webinars and training videos. DrossmanCare.com will also be a resource for clinician networking and provide a home for a community of clinicians who share a common passion for improving doctor-patient communications skills.