DrossmanCare's partnership with Rome Foundation, the world's leading provider of education on gastrointestinal disorders has led to new promotions of their pioneering training tools, GI Genius, and Communications 202.
GI Genius Intelligent Interactive Multi-platform Software
GI Genius is the state-of-the-art assessment, diagnostic and treatment tool delivering the expertise of the world's leading doctors and researchers whereever it is needed.
Communications 202 Patient-Provider Video Training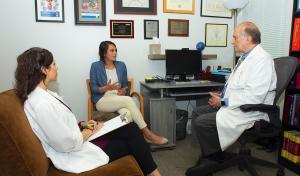 Communications 202 is video training on patient-provider communications practices, with six vignettes, and four parts to each vignette, providing excellent examples of what works, and what doesn't, and why. Communication is ubiquitous so it's easy to overlook it. But we've seen first hand over and over the extraordinary progress that arises from quality patient centered communication practices.