Douglas A. Drossman, MD
Dr. Drossman received his M.D. degree at Albert Einstein College of Medicine and obtained his medical residency at the University of North Carolina School of Medicine and NYU – Bellevue Medical Center. He sub-specialized in Biopsychosocial Medicine at the University of Rochester School of Medicine and in Gastroenterology at the University of North Carolina.
In 2012, Dr. Drossman founded the Drossman Center for the Education and Practice of Biopsychosicial Care LLC as an entity to help train physicians in relationship-centered biopsychosocial care with an emphasis on communication skills and enhancing the patient-doctor relationship. Some focus is on the care of difficult to diagnose and manage patients with functional gastrointestinal disorders such as IBS.
Dr. Drossman also established Drossman Consulting, LLC to consult in the health care field including: academic programs in medicine, psychiatry and digestive diseases, Federal (NIH) or pharmaceutical grants as a mentor or consultant, gastrointestinal medical practices, pharmaceutical advisory boards, as health care foundations, medico-legal groups, non-profit health care and educational and media companies.
Dr. Drossman is currently Professor Emeritus of Medicine and Psychiatry at the University of North Carolina School of Medicine where he was on staff from 1977 through 2011. He was founder and co-director of the UNC Center for Functional Gastrointestinal and Motility Disorders (since 1993). He was founder, past chair (1989-1993) and newsletter editor of the Functional Brain-Gut Research Group of the AGA, Chair (since 1989) of the Rome Committees (Rome I, II,III and IV) and President of the Board of the Rome Foundation (since 2004), past Chair of the Functional GI American Digestive Health Foundation's Digestive Health Initiative (1999-2001) and of the Motility and Nerve-Gut Section of the AGA Council (2003-2005). He is Past-President of the American Psychosomatic Society (1997), a Fellow of the American College of Physicians, a Master of the American College of Gastroenterology, and is on the Board of Directors and Chair of the Scientific Advisory Board of the International Foundation for Functional GI Disorders (IFFGD). He has served on three committees of the Institute of Medicine Committee on Gulf War and Health, has been an Ad Hoc member of NIH- NCCAM Advisory Board [now called NCCIH], and is on the NIH-National Commission on Digestive Diseases.
Dr. Drossman has written over 500 articles and book chapters has published two books, a GI Procedure Manual, and textbook of Functional GI disorders (Rome I, II, III), and serves on six editorial and advisory boards in gastroenterology, psychosomatic medicine, behavioral medicine, and patient health. He served 5 years as Associate Editor of the journal Gastroenterology and was the Gastroenterology Section Editor of the Merck Manual for 17 years.
Dr. Drossman's research relates to the clinical, epidemiological, psychosocial and treatment aspects of gastrointestinal disorders. He has developed and validated several assessment measures (e.g., illness severity and quality of life questionnaires for IBD and IBS, and an abuse severity scale) for clinical research, is involved in psychosocial outcomes research, and has also studied brain imaging in IBS and abuse. He was the principal investigator on several NIH-sponsored research grants with over $15,000,000 in funding. This included a multi-center grant for treatment (antidepressant and cognitive-behavioral treatment) of the functional bowel disorders. He also consults with regulatory and pharmaceutical agencies regarding the design and evaluation of treatment trials. He is a recipient of the Janssen Award for Clinical Research (1999), the American Psychosomatic Society President's Award (2003), the AGA Joseph B. Kirsner – Fiterman Award in Clinical Research (2005) the AGA Mentors Research Scholar Award (2007), the American Journal of Gastroenterology Lectureship (2011) and the American College of Physicians David Sun Award (2012). In addition, he has received several "Who's Who", "Patient Choice" and "Best Doctors" citations over the past 15 years.
His educational and clinical interests relate to the psychosocial and behavioral aspects of patient care. He has produced numerous articles and videos on the biopsychosocial aspects of medical care, medical interviewing and the patient-doctor relationship, and received second prize at the 1997 AMA International Film Festival. As a Charter Fellow of the American Academy of Communication in Health Care, he facilitates workshops to develop clinical skills in physician-patient communication. He received the AGA Distinguished Educator Award (2004), was identified as a "Best Gastroenterologist" in Men's Health (2007) and in Women's Health (2008) and is featured as one of 12 gastroenterologists in a book Best Gastroenterology Practices (2007).

President, Drossman Center
for the Education and Practice of Biopsychosocial Care, LLC
President, Drossman Consulting LLC
Professor Emeritus of Medicine
and Psychiatry, University of
North Carolina School of Medicine
President Emeritus
and Chief of Operations of the Rome Foundation
Former Co-Director, UNC Center
for Functional GI and Motility Disorders
Doug Drossman Detailed Biosketch
In October of 2012, Dr Drossman was invited to give the David Sun Lecture at the American College of Gastroenterology Annual Meeting on Communication Skills and the Patient-Provider Relationship.  This presentation was given to over 4000 Gastroenterologists. The following article, which provides more information from Dr. Drossman on this topic, is now published in the American Journal of Gastroenterology
view/download here
.
Elizabeth Smith, PA-C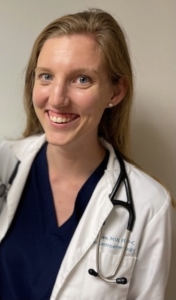 Elizabeth Smith, PA-C works alongside Dr. Drossman to care for our patients with  Disorders of Gut-Brain Interaction.  She joined the Drossman Gastroenterology team in June 2021.  A North Carolina native, Elizabeth grew up in Huntersville, NC, and earned a degree in biomedical engineering at NC State.  While she enjoys research and medical device design, she is passionate about providing patient-centered care and working directly with patients.  She graduated from Elon University with a Masters in Physician Assistant Studies, and is a NCCPA certified physician associate.
Elizabeth believes that optimal gastroenterology care is based on actively listening to patient's stories, genuinely caring, and educating patients on their medical conditions and treatments.  In her free time, Elizabeth loves spending time with her husband and family, traveling, hiking, boating, and cheering on the NC State Wolfpack.
Sri Chandrasekaran
Born and raised in Malaysia, Sri received her Biomedical Science and Forensic Science degrees from Murdoch University in Australia. Upon the completion of her Master's Degree from the University of Sunderland in the UK, she returned to Malaysia in 2010 and taught at a local university for 7 years.
In 2017, she moved to Australia and worked in Patient Information Services at the Peter MacCallum Cancer Center in Melbourne. Her experience with patients and their families cemented her belief in providing excellent patient care by always being respectful and compassionate to their needs, even if it is just lending a sympathetic ear.
Sri and her husband moved to the USA following the latter's job transfer and currently live near the Research Triangle Park, NC area. In her free time she likes to travel, do jigsaw puzzles, read murder mysteries, grow tomatoes on her balcony (albeit unsuccessfully) and has recently picked up knitting.